July 20, 2020 | No Comments Yet
Tags:
North South Yacht Sales
,
Tips on Buying A Boat
,
yacht broker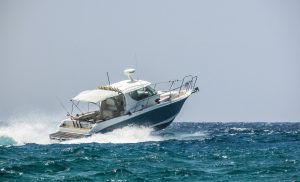 COVID-19 hasn't completely eliminated cross-border boat purchases, but it certainly presented us with some challenges.
This spring North South Yacht Sales was able to facilitate several cross border purchases and deliveries by leveraging the alliances we have developed over the years with local delivery Captains.
While searching for and locating vessels didn't change from previous spring seasons, or the hiring of a surveyor to act as boots on the ground and report on the condition of the boat; where we had to get creative was on personal boat showings and vessel delivery.
With the US/Canadian border closed, boat buyers have traded personal viewing for a live-tour via a mobile app. We've had some excellent boat showings via FaceTime. With a mobile phone, it's easy to capture the boat at a distance while still viewing the finer details of the vessel.
Once purchased, we partnered with a delivery captain, who is able to move boats across a closed border providing it is part of a sales transaction. And this holds true whether we are bringing a vessel up to Canada or down to the US.
At North South Yacht Sales, we talk about the NSNG Advantage and one of those is the full range services we offer, from interpreting the survey, securing the handling of funds to managing the paperwork. And now we can add, cross border shopping, during a pandemic and the border is closed.
If you are looking to purchase a boat this summer in the US or Canada, don't be discouraged by the location of the vessel, whether it's in the Caribbean, in the US or on the other side of Canada.
The NSYS sales team has both extensive knowledge and relationships in the yacht brokerage sales and associations, which during this unusual time have served us well.