boat shows
,
boating in Ontario
,
Toronto Boat Show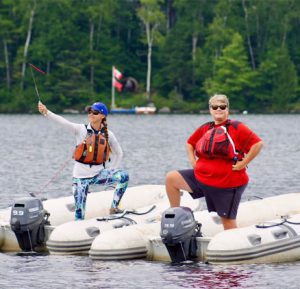 The Toronto International Boat Show has added a new feature to its boating educational roster – Women's Day –  a whole day educational opportunity for women – no matter what type of boater or at what level.
The show team has pulled together a roster of seminars and interactive sessions that will help every woman become e a better boater.
Here are two of our favourites.
Are you a trailer boater? Happy to drive the boat, or pull it out of the water, but when it comes to backing it down a ramp – you leave that to someone else?
Don't despair, sign up for 'The Back-Up Plan: Trailering with Ease'. In this interactive session, seasoned boaters and back-up artists – Kim Moffat and Melanie O'Brien will help you master the skills of backing-up and towing a trailer with confidence.
Kim and Melanie share their bag of tips and tricks in the Enercare Parking Garage.
Are you a cruiser? Do you sleep with one-eye open when you are anchored overnight – just in case? Well sign up for The Happy Hooker: Tips and Techniques on Successful Anchoring and learn what anchoring strategies there are that will eliminate stress and maximize your sleep.
Seasoned sailor Carol Gillstrom (who has been sailing full-time with her husband for the last 6 years), will discuss choosing the right anchorage and crew communication while anchoring. She will outline methods of setting and weighing anchor in simple and tricky situations. This seminar is perfect for both novice and advanced cruisers. Hand-outs to be provided.
Learn more about the other seminars by reviewing the day's agenda.
Women from all over the industry will be participating in a variety of events, including Petra Fischer of Skippers' Plan Boat Insurance who will be part of the lunch & learn panel – where attendees are invited to ask questions – on anything!
Women's Day will be held Sunday, January 20, 2019. The registration fee of $99 includes: seminars, keynote presentation with Deb Cantrall, lunch, end-of-day reception, gift bag, raffle prizes and a general admission ticket to return to the show any other day.
Show manager, Cynthia Hare recommends registering early. The space is limited to 150 guests with some workshops already completely booked!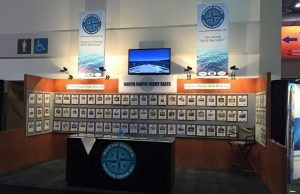 The 61st annual Toronto International Boat Show returns to the Enercare Centre from January 19 to 27. Attendees can expect more than 550 vendors occupying more than one million square feet.
There's lots to see and do at the show including: 250 free seminars; new product launches plus returning favourites – The Boathouse 'Ask The Experts,' Cottage Country, Mariners Marketplace, Antique and Classic Boats, the Great Canadian Fish Tank and Winter Wakefest at the world's largest indoor lake.
Be sure to drop by the North South Yacht Sales booth in 1737. Our entire team attends the show,  so drop by and say hi.
The boat show is also an excellent marketing opportunity if you are looking to sell your vessel. Our 'Great Wall of Boats For Sale' is a popular feature for anyone looking to buy a boat! List your boat today and take advantage of the extra exposure in January. Contact Mike Burns for details.
The Toronto International Boat Show — where the entire recreational boating industry will be in January!
See you there!
Tags: