boating in Ontario
,
marine diesel engines
,
marine surveys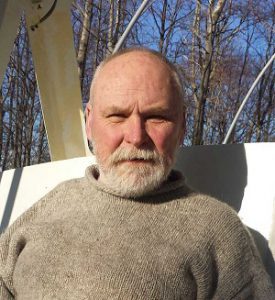 If you want to know about marine diesel engines – both the operation and maintenance, then you can't go wrong spending a day with Craig Morley in his Lake Erie shop, learning the basics.
Every spring, before the marine survey business gets revved up, Morley conducts single day marine diesel engine theory and maintenance courses out of his shop in West Lorne, ON. [between London and Chatham, ON]
It's a full day with both theory and practical demonstrations.
In the morning, Morley familiarizes students with everything inside or attached to a marine diesel engine and all associated systems including: fuel, exhaust, cooling transmissions, propeller shafts, engine mounts and alignments.
The afternoon is all practical demonstrations where students learn how to: jump start a diesel; operate an engine on a test stand; bleed fuel injection systems; demonstrate valve adjustments; change water pump impellers; winterize the engine and more.
Morley warns:
His shop while heated, is not room temperature. The shop door remains open when testing engines. The solution: dress warmly, including good footwear.
While there are shop towels and hand cleaner available, be prepared to come in contact with a little diesel fuel or engine oil.
Classes start at 9AM sharp and end at 5PM or when everyone is ready to head home. Morley recommends arriving a little early to pick up the registration package. A complimentary lunch and light breakfast  in provided.
The class is limited to 12 people, so register early. Course dates are: March 7, 8, 14, 15, 21 or 22.
Course fee is $282.50 which includes a copy of 'Marine Diesel Basics' by Dennison Berwick. Participants are encouraged to bring along their own engine information/manuals so Morley can address specific questions.
Morley started in the boating business in 1989 as a professional sailing school, yacht delivery and maintenance. In 2003, AquaFacts Marine Surveyors and Yachting Services was formed as an extension of those services.
Morley takes his marine diesel knowledge to the Toronto Boat Show. His talk Marine Diesel: Do's and Don'ts, is widely popular at The Boathouse where attendees can 'Ask The Experts'.
Of his course, Morley explains: "I can't make you into a Diesel Mechanic in a day but you will leave with a very comfortable understanding of what you CAN, should and should not do with your Marine Diesel Engine."
To register contact Craig Morley directly: Office: 519-768-3438 | Cell 519-933-3205 | aquafacts@gmail.com
Tags: