Toronto Boat Show
North America's largest indoor boat show, the Toronto Boat Show is celebrating its 59th year as 'the best place to see and buy the latest in boats and boating related accessories and services'.
The show runs January 21 to 29 (January 20 is the preview day) at the Enercare Centre, Exhbition Place, Toronto. Advance tickets are now on sale, with a number of options for single, 2-day, 9-day and unlimited weekday evening passes.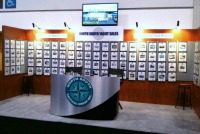 North South Yacht Sales, Ontario's specialists in pre-owned power and sailing vessels, will showcase their 'wall of boat dreams' in booth #1737 – located along the north wall.
Drop by our show booth, check out our dream boat board and meet the NSYS team.
Not your first show visit? Here are a number of great show features that will make your visit more enjoyable and productive.
The best way to stay current on 'everything TIBS' is to join the Captain's Club. The CC newsletter provides access to exclusive discounted tickets & special offers, show features and promotions.
Save time this year and 'plan your boat show visit in advance' using the TIBS interactive map and exhibitor feature (also available as a mobile function). This feature allows you to pre-book time with exhibitors for the day you'll be at the show.
Looking for a particular boat? Check out the Toronto Boat Show boat-finder. It's a listing of boats on display at the show sorted by category, length and type of boat. Not only is there a full list of details and description, the boat finder will advise you which booth has the boat. That will make planning your visit, a little easier.
Hone in on what's new in boating for 2017 by checking out the New Product Showcase – covering the latest and most innovative products from eye-catching boats to handy new boating accessories.
Have a boating question? From diesel engines to propellers to deep cycle marine batteries to holding tanks to everything else, the Boating Experts are available at The Boathouse (Mariner's Marketplace G863) with the answers. Experts host 15 minutes informal workshops with lots of Q&A time – so bring your Qs.
Test your skills with the Canadian Power Squadron's Boating Skills Virtual Training Simulator in booth S7. Test a variety of boating scenarios including: working with spring lines; emergency stops; variable winds & strong currents to name a few.
If you're thinking of buying a new boat at the show be sure to enter the Buy A Boat & Enter to Win $10,000 towards your purchase.
And don't forget about The Lake – the world's largest indoor lake. It takes 6 days to melt the ice in the Ricoh Centre and fill it with more than one million gallons of Lake Ontario water. In fact it's such an impressive place to hang-out, it has its own Schedule of Events. New this year are Remote Control Boat Races. Just sign up and take the helm of an electrically powered toy boat.


For anyone new to boating, the Discover Boating Centre is a wealth of free resources and experts that can answer your questions from finding the right boat for your budget and lifestyle or destination cruising, boating courses and more.
Anyone wanting to live the boating dream in winter, can check out any of the over 200 seminars from boating experts from around the world that will "educate, inspire and motivate the boater in you." For those looking for more in-depth workshops, there are several 2-3 hour workshops and training sessions (pre-registration required).
The list is endless, from wakeboarding competitions to the Mariner's Marketplace to Sail Fest to paddling (canoe, kayak & SUP) demonstrations and fishing simulations – there's something for every type of boater that does every type of boating.
If you want to know why life is better with a boat, visit the Toronto Boat Show.
TORONTO BOAT SHOW
January 21 to 29, 2017
Special Preview Day January 20, 2017
Enercare Centre | Toronto, ON
Tickets now on sale.
FAQ
Tags: