boating in Ontario
,
Cranchi Yachts Canada
,
New Boats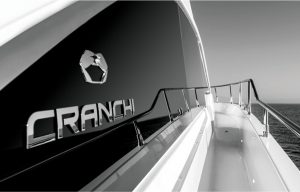 North South Nautical Group Inc. is pleased to announce that effective immediately, they will be representing Cranchi Yachts for the Canadian Great Lakes region, through a working relationship with Cranchi Yachts Canada.
Based out of Montreal, Quebec, Cranchi Yachts Canada is led by Denis Poliseno, who also runs a long-established, family run marina business, Poliseno Marine.
After having toured the Cranchi manufacturing facility in Lombardy, Italy, Mr. Poliseno was so impressed with the exceptional and high-quality product that Cranchi Yachts produces, he worked closely with the ownership to expand their product line into Canada by opening several sale offices
Also a family-run business, Cranchi Yachts was established in 1870, and today, at two state-of-the-art factories, they are producing an impressive line of cruisers and motor yachts ranging in size from 24' to 60', with plans to produce even larger motor yachts in the not too distant future.
NSNG President Mike Burns, is looking forward to representing the Cranchi Yachts line.
"While the Cranchi brand may not be widely recognized in the North American market just yet, the global expansion of this manufacturer will surely have a positive impact on the local market in the not too distant future.  I'm confident that consumers will soon come to appreciate the exceptional product that Cranchi is already renown
for throughout Europe."
Burns continues: "We are also pleased with the recent changes implemented in the European Free Trade Agreement that will allow these imported brands to be priced even more competitively in the North American market."
Operating under the North South Nautical Group (NSNG) banner, NSYS specializes in the sale of pre-owned power and sailing vessels. Known as one of Canada's premier yacht brokerages, NSYS has strategic alliances with brokerage firms in the US and Caribbean. NSNG was the first yacht brokerage in Canada to attain the recognition of CPYB Endorsed Brokerage.
North South has sales representation in Port Credit (Head Office), St. Catharines, Georgian Bay, Hamilton, the Ottawa and Kingston regions, and more recently, Montreal, Quebec.
FOR MORE INFORMATION: 
Tags: