Boating Ontario
,
boating safety
,
Canadian Safe Boating Council
2020 Safe Boating Awareness Week ends tomorrow May 22nd.
Historically the kick-off to the boating season, it's the first opportunity the boating industry has to remind recreational boaters to embrace responsible boating practices as second nature on the water.
At the core of the 2020 campaign are 5 key messages the Canadian Safe Boating Council has been consistently delivering to the boating community since 1995:
Wear a PFD or Lifejacket
Boat Sober
Take a Boating Course
Be Prepared, Both You and Your Vessel
Be Wary of the Dangers of Cold Water Immersion
This year, however, things have taken a couple of new turns.
How Do We Implement Social Distancing While Boating?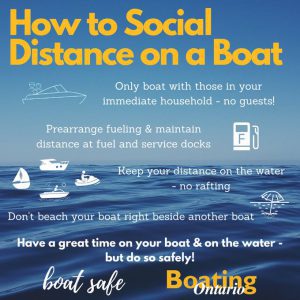 With the recent ease of COVID-19 restrictions in Ontario, marinas and boating stores have experienced a shorter opening time along with the implementation of new safety procedures.
Boaters themselves are subject to new social distancing rules at all public locations, including boat ramps, yacht club docks or marinas.
BoatUS, reminds boaters to look out for each other, and those assigned to keep boaters safe on the water.
But what does social distancing while boating actually look like?
Boating Ontario has compiled 4 key messages:
Only boat with those in your immediate household – no guests.
Prearrange fueling and maintain distance at fuel and service docks
Keep your distance on the water –No rafting
Don't beach your boat directly beside another boat.
'Boat Sober' Takes On An Additional Meaning.
In addition to social distancing, 'boat sober' takes on a new focus this year with the legalization of cannabis.
Alcohol has been proven to be a contributing factor in approximately 40% of all boating fatalities across Canada. The legalization of recreational cannabis has the potential to significantly increase this statistic.
The recommendation of the CSBC is to avoid the consuming of any alcohol or drugs while operating a boat!
Stay safe on the water!
♦
The entire team at North South Nautical Group wish everyone a wonderful 2020 boating season!
** Notes from Boat Blurb and Boating Industry Canada
Tags: