boating in Ontario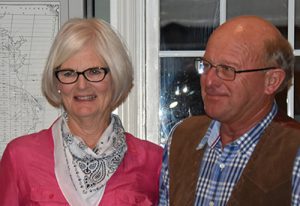 The North South Yacht Sales brokerage team extends warmest congratulations to Jeannie and Bernie Luttmer who were presented with the 2016 Legends of Ontario Sailing Award at the 14th Annual Ontario Sailing "Celebration of Sailing" September 14th.
During the award presentation, the Ontario Sailing Selection committee, acknowledged that they had "…chosen a dynamic duo as the winners of the 2016 Legends of Ontario Sailing Award.  Jean and Bernie Luttmer have made significant contributions to the development and growth of sailing in Ontario and remain leaders within the industry."
Jeannie and Bernie were recognized for their long and extensive contribution to young sailors making their mark in the racing world. The award's signature is Honouring the Past to Inspire the Future. Jeannie and Bernie were met with a rousing, standing ovation upon announcement of their award.
The Luttmers children including Bernard, who represented Canada in 2004 Olympics in Athens joined their parents at the event as did the staff at Swans Yacht Sales.
The Luttmers have owned and operated Swans Yacht Sales for over 40 years. Located in Pickering, ON, Swans Yacht Sales is the Ontario dealer for Catalina and Dufour Yachts as well as brokerage for sailing yachts.
With notes from Boating Industry Canada and Swans Yacht Sales
Tags: