Caribbean
,
cruising
,
Hurricane Irma
… will leave scars and tears for years to come

Hurricane Irma hit the British Virgin Islands and St. Martin/St.Marteens on September 6th.  Pat Festing-Smith, a local Toronto sailor,  wrote the following essay that was reprinted in Canadian Yachting's Onboard Newsletter. North South Yacht Sales is deeply saddened by the devastation all over the Caribbean.
Last Wednesday morning through mid afternoon, Hurricane Irma made direct hits on both St Martin and BVI's and at that moment of impact on the two tiny islands chains, as the most powerful storm in recorded history. Only during that short period of her devastating journey, was she a Category 5 (would be 6 if there was such a category) with 300km/hr. force and 7-11 foot surge.
Have you ever stuck your hand out of your car at 100km/hr. and felt the force? Sure probably. Have you ever at 300km/hr.? No, I'm pretty certain you can't drive that fast. No one wants to experience this fury and the poor people of these tiny islands had nowhere to run.
Having called the BVI a second home for almost three decades, I could only watch from afar and try to keep up with friends and colleagues via SMS and social media. Never before have I felt so far away and useless.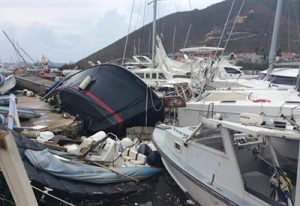 Even as I write this, my friends are still in search of many colleagues around our Nanny Cay base.
Pictures and messages received during the eye were grim and hopeless. Updates received after the second wave were further more depressing and devastating.
People missing. Buildings gone. Trees and vegetation completely disappeared like a razor blade had freshly shaved the landscape. Everywhere.
The resorts of Bitter End, Leverick Bay, Saba Rock … a bombshell. The little island of Jost Van Dyke … famous beach bars, disappeared.The hurricane holes and marinas providing proven protection from some of the worst storms in the past – filled with piles of FRP, yachts toppled on top of each other. The wind itself at 300km just buckled large bare masts with its force. One hundred foot palm trees tossed around like toothpicks.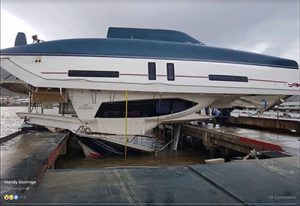 The impact of the storm will have consequences on the sailing industry and the local economies for years to come. Ninety percent of the charter fleets are destroyed. Hundreds upon hundreds of yachts will need to be replaced. And some companies in France are already booked up in production for two years prior to this catastrophic event.
Who knows what charter companies, agents, brokers and suppliers both local and worldwide, will survive after the dust settles. The BVI is the central hub for the charter business. It is Moorings, Sunsail, TMM and Horizon's largest bases.
What few yachts are left or are replaced quickly will have little in local venues to entice and attract vacationers for some time.
BUT WE NEED TO GO.
We need to support the local economy, which survives on us yachters to provide most all of their jobs and income. We need to go and help them. We need to go and let them know we are there for them. They have provided us one of the friendliest and most beautiful and welcoming destinations on the planet. Now is not the time to abandon them.
As soon as feasibly possible, it's time to pay forward.
In the meantime, please support any relief efforts you can in the BVI and St Martin.
~Pat Festing-Smith
Originally published in Canadian Yachting's Onboard Newsletter
(Printed with permission)
UPDATE:
Oakville BVI Relief Fundraiser: A huge success
On September 27, boaters from the Oakville Yacht Club with Pat Festing-Smith at the helm organized a benefit concert in support of the many charter companies devastated by Hurricane Irma.
Hosted at The Moonshine Cafe in Oakville, entertainers, sailors and their friends raised $55,000.
Read Pat's account of the evening  [posted in Canadian Yachting Magazine] which included performances by artists Jim Cuddy of Blue Rodeo and Ed Robertson of Barenaked Ladies.
Tags: