Caribbean
,
Hurricane Irma
Although the British Virgin Islands (BVI) and its tourism sector were deeply affected by Hurricanes Irma and Maria in September, on November 1st, the Tourist Board proudly proclaimed: 'We're Still Sailing'.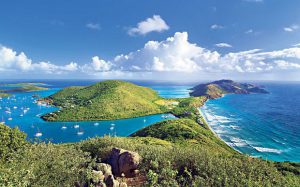 The BVI Tourist Board and government have been fully dedicated to restoring the territory to its luxurious allure. While many of the landside accommodations are currently closed, the BVI is thrilled to announce that the yachting sector started welcoming visitors as of November 2017.
The following charter companies intend to resume sailing for the Winter 2017/2018 season – many of whom are bringing new yachts to the BVI for the first time:
● November 2017:  Virgin Motor Yachts | BVI Yacht Charters | Dream Yacht Charter | Tradewinds
● December 2017:  The Moorings | VSV (Vacanses Sous Voiles) | Marine Max Vacations | Festiva Sailing | Sunsail | Footloose | Voyage Charters
● January 2018: Horizon Yacht Charters | TMM Yacht Charters
"The BVI has historically been the sailing capital of the world," Charter Yacht Society Chairman Ruth Ross said. "And the reasons for this have not changed. Our water is still brilliant blue, the anchorages are still beautiful and near one another, and the tradewinds will be blowing."
"We remain energized and optimistic that the destination's tourism industry will rebound. Guests of the BVI have come to expect a luxurious, personalized experience in terms of the islands' natural beauty and our unparalleled hospitality. When they return, this product will only have gotten better," Director of Tourism Sharon Flax-Brutus said.
On smaller islands like Jost Van Dyke and Anegada, beloved restaurants and bars are working hard to reopen this winter. Foxy's, for example, plans to host its iconic Old Year's Night celebration to ring in the New Year.
Diving enthusiasts can enjoy the BVI's vast marine life at the Wreck of the RMS Rhone, which celebrates its 150th anniversary this year, or at the new BVI Art Reef. Dead Chest, Peter Island, Norman Island and the Indians are also great places to experience underwater beauty. Meanwhile, the dive operator sector is focused on rebuilding efforts to become fully operational.
Dive BVI restarted operations initially from their main base at Virgin Gorda Yacht Harbor while Sunchaser Scuba (Bitter End) and Sail Caribbean Divers (initially from the Moorings base) will begin operations the following month.
Commercial flights to the BVI have resumed, and travelers may reach the territory via connections in San Juan, St. Thomas, Antigua and St. Maarten. Upon arrival, visitors will have access to car rentals and taxis ready for hire, albeit with fewer vehicles available in some cases.
Inspiring tales from the relief and recovery efforts have swept the territory, as residents and friends of the BVI strive to rebuild what is still a dazzling destination.
All those interested in volunteer opportunities may visit bvivolunteers.com.
** Press Release from the BVI Tourist Board originally published in Boating Industry Canada
Photos: Dre1allianceent.com | eTurboNews
Tags: