Annie Campbell
,
Fraser Campbell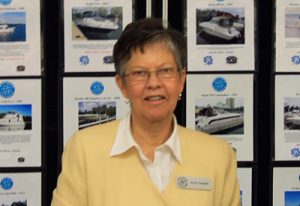 It is with deep sadness, that we announce the passing of one of our long time yacht brokers, Annie Campbell.
Annie, and her husband Fraser, joined the North South sales team not long after the company's inception in 2008.
They started with North South Nautical Group as customers. With the excitement of selling their trawler, combined with their passion for boating, Fraser and Annie decided to launch their second career in yacht sales.
An honest and hardworking team, they made many inroads into the Eastern Ontario boating market.  Both Annie and Fraser were among the first brokers in Canada to obtain their Certified Professional Yacht Broker accreditation.
Before joining North South Nautical Group, Annie had a long career as a real estate agent, and was a successful potter with the Ottawa Potters Guild.
Annie will be deeply missed by all those who knew and worked with her.
A service will be held Saturday, April 27th in Ottawa, with a reception to follow.
In lieu of flowers, the family requests that donations be sent to the Ruddy-Shenkman Hospice in Kanata or the Ottawa Humane Society.
Tags: