Cleaning your boat
,
Discover Boating
,
Winterizing Your Boat
If you are trying to squeak in a few more days on the water, you probably haven't given much thought to winterizing your boat. Trust us – winter is coming.
Discover Boating Canada has a comprehensive list on How to Winterize Your Boat. We summarized the points here – to make it easier for you. Our only advice about winterizing: the time and effort you invest in winterizing will not only save you time but dollars come spring.
1) Policies & Manuals:
This is a good time to review your boat insurance policy to see if there are specific requirements for winterizing. And don't ignore your owner's manual for winterizing steps that maybe particular to your boat.
2) Bilges:
Make sure they are clean and dry. Use soap, hot water and a stiff brush to clean up any oil spills. Once the bilges are clean, spray with a moisture displacing lubricant and add a little antifreeze to prevent any water from freezing.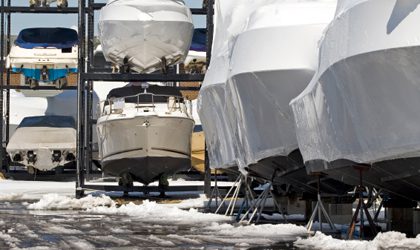 3) Fresh Water System:
Completely drain the fresh water tank and hot water heater. Isolate the hot water heater by disconnecting the lines and connecting them together. Pump a non-toxic antifreeze into the system and turn on all the faucets including the shower and any wash-down areas until you see the antifreeze coming out.
4) Fuel:
Fill your fuel tank(s) to avoid a build-up of condensation over the winter months. Add a fuel stabilizer by following the instructions on the product. Change the fuel filter(s) and water separator(s).
5) Head:
While pumping out the head, add fresh water to the bowl and flush several times. Use Vanish crystals or whatever your owner's manual recommends that will not harm your system and let sit for a few minutes. Again add fresh water and pump out again. Add antifreeze and pump through hoses, holding tank, y-valve, macerator and discharge hose.
6) Interior:
Remove any valuables, electronics, lines, PFDs, fire extinguishers, flares, fenders, etc. Over the winter these items can be cleaned, checked and replaced as necessary. Open all drawers and lockers and clean thoroughly. Turn cushions up on edge so that air is able to circulate around them or, better yet, take them home. Open and clean the refrigerator and freezer. Raccoons and other critters have been known to get into even the most well sealed boats. It is probably best to remove the boat batteries, take them home and either put them on a trickle charger or charge them every 30-60 days.
7) Hull:
Pressure wash the hull, props and shafts, rudders, struts and trim tabs. Clean all thru-hulls and strainers. Open seacocks to allow any water to drain. Check the hull for blisters and if you find any that should be attended to you might want to open them to drain over the winter. This is also a good time to give the hull a wax.
8) Engines:
If you haven't done it before, engine maintenance is best left in the hands of a professional marine mechanic. Inboard/outboard engines have different requirements as do sterndrives. If a marine mechanic is winterizing your engine, they will also check for cracked or broken parts.
No doubt, your boat prefers to be stored indoors in a climate-controlled boat storage unit. If that's not available, cover your boat with a protective tarp, or have it professionally shrink-wrapped.
If you are a DIY boater, check out the most recent issue of Canadian Yachting where AndrewMcDonald of Lakeside Marine Services, posted this step-by-step guide to DIY shrink-wrapping. Andrew does admit that shrink-wrapping for first-timers can get a bit tricky, so stick with it if this is your first winter season.
Winterizing your boat is an important step towards protecting your investment and ensuring that you'll be enjoying your boat first thing in the spring – and not delayed due to repairs occurred over the winter.
Tags: