boat shows
,
boating in Ontario
,
Discover Boating
,
Toronto Boat Show
The 61st Toronto International Boat Show returns to the Enercare Cenre, Exhibition Place from January 18 to 27th.
North America's largest indoor boat show, the 2019 Toronto Show will showcase a selection of 1200 boats ranging from 6 ft. – 60 ft., as well as the latest in marine accessories to hit the marketplace. A broad range of marine services exhibit including yacht brokerages; boat insurance agents; marinas; yacht clubs and more.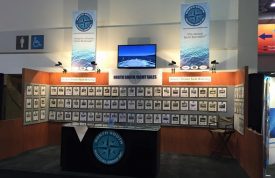 Once again, our team of yacht brokers will be showcasing  power and sailing vessels for sale, in booth 1737, along the North wall.
The NSYS 'wall of dreams' is well known as a great place to 'stop and shop' for a pre-owned vessel. If you are interested in selling your boat, presenting it at the Toronto Boat Show is to your advantage. In fact, list your boat with us today and be our guest Preview Day [January 18th] at the Toronto Boat Show.
Contact one of our yacht brokers for more information.
Every year, the Toronto Boat Show brings in a number of wonderful boating features to enhance your boat shopping experience.
And this year is no exception.
Royal Canadian Air Force CH-146 Griffon Search and Rescue Helicopter – Meet the men and women who operate the CH-146 Griffon Search and Rescue (SAR) helicopters, one of which will be displayed on-site. Come talk to the pilots, flight engineers, and SAR technicians of 424 Transport and Rescue Squadron and members of Joint Rescue Coordination Centre Trenton to learn more about the Royal Canadian Air Force's preparedness for aeronautical and marine SAR missions, and what boasters can do to prevent SAR callouts.
Women's Day (Jan. 20) – The inaugural Women's Day will offer a full day of boating seminars and guest speakers designed to educate and inspire female boaters in a friendly and supportive environment where women can feel comfortable to ask questions and learn from each other. There will be an opportunity for attendees to mix and mingle with fellow female boaters, and ask questions in a friendly
Fly Fishing – Surprisingly, fly fishing is for everyone, even with no fishing experience. The award-winning Franklin Club pros who have over 200 years of experience combined, will show participants how fly casting works, along with how to fish and retrieve the flies – in the world's largest indoor lake.
And then there are those show features that just get better every year.
250 FREE Seminars – The Toronto Boat Show offers the most comprehensive line up of education and free daily seminars for boaters of all interests. Learn from boating enthusiasts, marine experts, ocean racers and sailors who will share their incredible adventures.
Hundreds of NEW Products: More new products are launched at the Toronto Boat Show than anywhere in Canada, making it the premier destination to get a first look at what's new in the boating industry
Lake Activities – The world's largest indoor Lake is still the perfect setting to enjoy FREE boating activities from pedal boat, kayak and canoe boat rides to wakeboarding lessons from the experts at Boarder Pass. You can learn Stand-up Paddleboarding, SUP Yoga and Water polo and Freestyle Kayaking.
100-year-old boats – The Antique & Classic Boat Society returns to the atrium with a selection of vintage watercraft from mahogany wood boats to classic fibreglass runabouts and ski boats. This is the place to learn more about Canada's rich boating heritage and the rare grand old boats of the Muskoka's and beyond.
Looking forward to seeing you at the show!
Toronto Boat Show
January 19-27 | January 18 Preview Night
Enercare Centre | Exhibition Place Toronto
Purchase Tickets Online
Tags: